OLYMPIC DAY 2010, DHARAN, SUNSARI, NEPAL
Early morning of 23rd June, 2010. All the enthusiastic participants gathered in Public High School, Dharan. Nearly 6000 participants including students of various schools, teachers, athletes, sports instructors, Olympian, Dharan Merchant Association, Nepal Police, Armed Police Force representatives of various institutions, organizations and a large number of local people gathered to participate in the peace rally. The ceremonious part of the opening commenced with the burning Olympic torch first Rt vice-president of state Hon. Mr. Parama Nanda Jha with president of Nepal Olympic Committee Mr. Dhruba Bahadur Pradhan and Secretary General Mr. Jeevan Ram Shrestha and flag hosted by the first Rt. hon'ble Vice President of Nepal Mr.Parama Nanda Jha and President of Nepal Olympic Committee Mr. Dhruba Bahadur Pradhan. IOC President Dr. Jacques Rogges's message was presented by the executive Member of NOC Mr. Sunil Rajkarnikar. Program was started at 7:00 am from the Dharan Public High School, Sunsari, Dharan.
After an hour all the participants were gathered at the Tourism and largest city of Sunsari District, Dharan Sports Stadium. The local people of Dharan welcomed all the participants with their traditional style. Rt. Hon'ble Vice-president Parama Nanda Jha was the Chief Guest for the Closing ceremony. The musical program was also organized in that day. The Chief Guest of program Rt. Hon'ble first vice president of state Parama Nanda Jha presented I.O.C. Olympic Diploma signed by Dr. Jacques Rogge to all the participants and corporate houses that had provided their invaluable assistance to NOC for the success of Olympic Day 2010.
The Olympic Day 2010 was well coordinated by the volunteers. During the program, widely covered by all the media including, the entire major daily broad sheet papers, radio, televisions.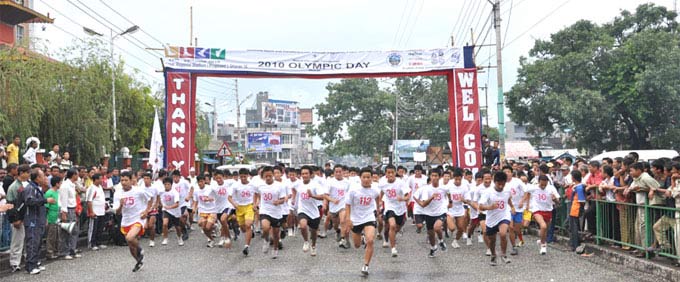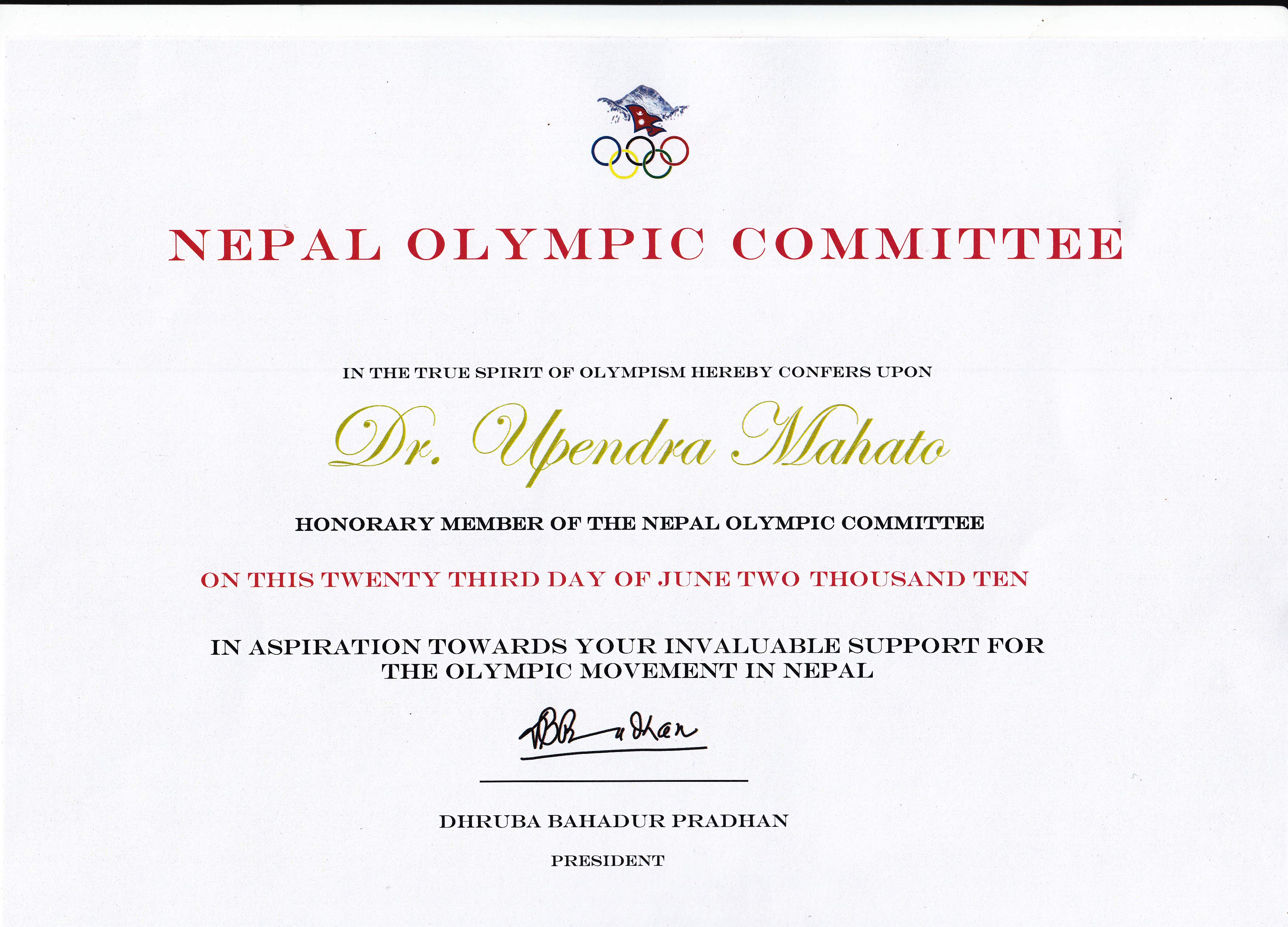 On the Auspicious occasion of 2010 Olympic Day, Nepal Olympic Committee has been awarded Honorary Membership to distinguished personality former President of NRN of Nepal Dr.Upendra Mahato by President of Nepal Olympic Committee Mr.Dhurba Bahadur Pradhan.


Previous Next