President bids farewell to Nepali team for the Rio Olympic Games.
President Bidhya Devi Bhandari on Tuesday bade farewell to all the participants, coaches and officials who are travelling to Brazil for Rio Olympics 2016, August 5 - 21. The function was organized at the President's House in Shital Niwas, Maharajgunj. The Nepali team includes total of 7 players from different sports:
Phupu Lama Khatri (Judo, less than 63 kg)
Nisha Rawal (Taekwondo, above 64kg)
Jit Bahadur Muktan (Archery, individual)
Gaurika Singh (Swimming, 100meters backstroke)
Sirish Gurung (Swimming, 100meters freestyle)
Saraswati Bhattarai (Athletics, 1500 meter)
Hari Kumar Rimal ( Athletics, 5000 meter)
President Bhandari wished success to the outgoing players as well as coaches and assured support to Nepali Sports whether she is in her tenure or not. She was delighted by the growth of Nepali sports.
The function was graced by Nepal Olympic Committee (NOC) President Jeevan Ram Shrestha in the presence of all the Officials who are going for the event. NOC President stated that Olympic is a dream of all the players so to be a part of it is a huge opportunity.
In the program President Bhandari handed over Nepal's flag to the Chef D Mission from Nepal Mr. Keshab Kumar Bista and NOC President Shrestha gave T-shirts to all the participants.
Different Programs were held this week for the participants of Rio Olympics. Chief Officer of Nepal army Rajendra Chettri invited the participants for a meet and Greet program held in Nepal Amry Headquarter, Bhadrakali in July 22, 2016 Friday. TNT international Company, Tombola Brand from China gifted Track Suit to the Athletes, coaches and officials as a support for Rio Olympics.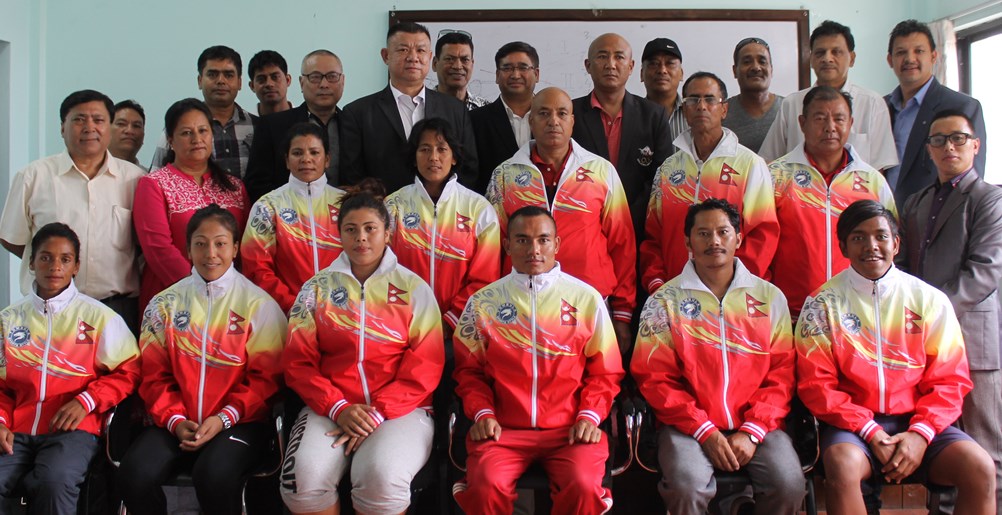 Participant wearing the Track suit distributed by

TNT international Company, Tombola Brand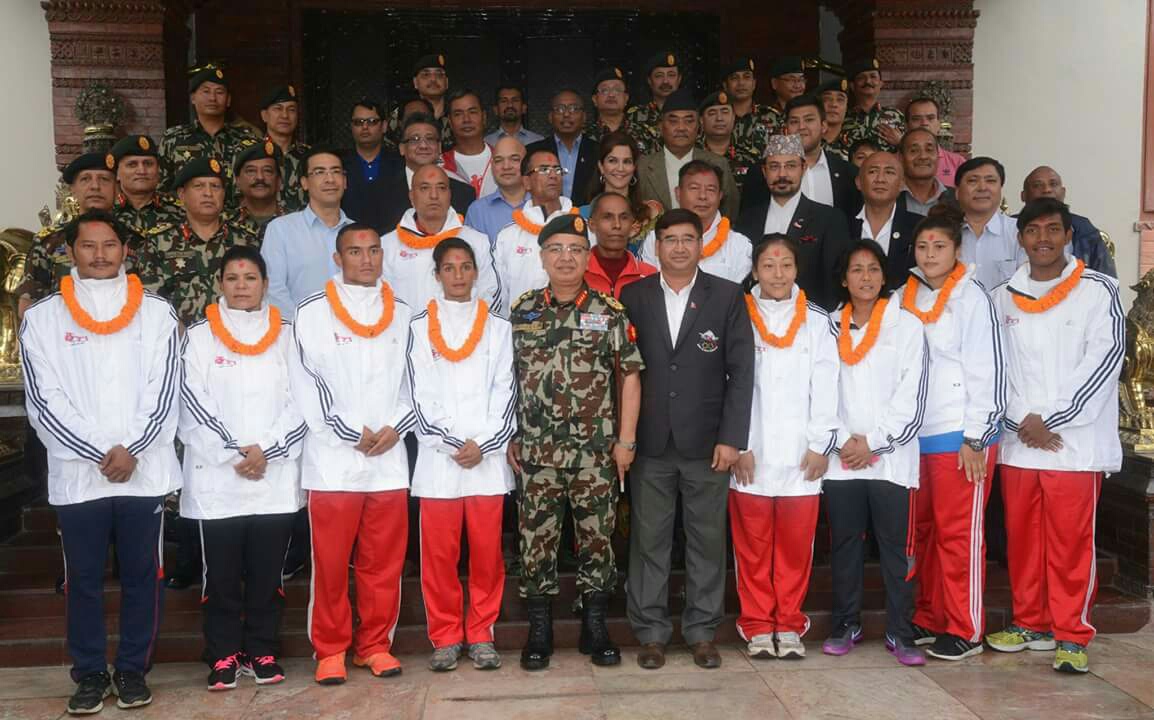 Meet and Greet Program by Nepal Army