June 23, 2020 Tuesday
Nepal Olympic Committee started the celebration of the Olympic Day 2020 in association with sports for all commission today at Olympic Building, Satdobato Laltipur.
President of NOC/ Member of Parliament Honorable Jeevan Ram Shrestha starded the program by hoisting the Flag of Nepal and Secretary General of NOC Mr. Nilendra Raj Shrestha hoisted the flag of IOC.
EB members of NOC were present in the program and everyone exchanged views regarding Olympic Day.
A tree plantation program was held in the Building premises where President Honorable Shrestha planted Elaeocarpus ganitrus tree (Rudraksha).
After the plantation program there was a zoom conference meeting with all the stakeholders of Nepali Sports which included Olympian Mr. Deepak Bista, Secretary of Youth and ministry Mr. Ram Prasad Thapaliya, Member secretary of National Sports Council Mr. Ramesh Silwal, Secretary of Youth and ministry Mr. Ram Prasad Thapaliya, President of NSJF Mr. Devendra Subedi and, Secretary General of different Associations, representatives of Media, Olympians and other athletes.

The video message from IOC President Mr. Thomas Bach where he encouraged people to use the power of sports to fight this pandemic was played first.
President of NOC Hon. Shrestha said that we must all be a part of Olympic Movement and suggested that we make COVID 19 a part of our life and follow the protocol given by Nepal Government to stay safe.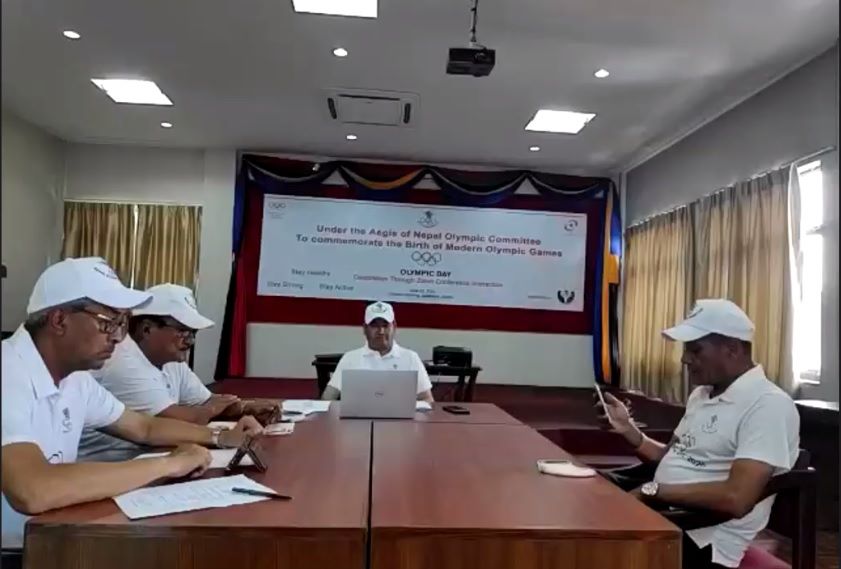 Despite our plans to do programs in all the districts and have a grand celebration, due to this global pandemic we were only able to do a limited number of programs.