IOC/OCA delegates visit at Nepal Olympic buildings
Nov 8, 2016 Tuesday
Three Delegates from OCA and IOC visited Nepal for a 2 day visit program. In the first day President of Nepal Olympic Committee Mr. Jeevan Ram Shrestha welcomed Mr. Nayaf Sraj (Financial Officer of Olympic Council of Asia), Mr. Edward Kensington (Senior Project Manager, Athlete Programmes of International Olympic Committee) and Ms. Astrid Hasler (Athlete Programme Coordinator, Olympic Solidarity- Athletes' Section IOC) and had a meeting with them. In the meeting Secretary General of NOC Mr. Lama Tendi Sherpa, Treasurer of NOC Mr. Ratan Tandon, Legal Advisor Mr. Om Thapalia and Auditor Umesh Prasad Dhakal were also present.
After the meeting the guest met with all the employees of Nepal Olympic Committee and also inspected the Olympic Building.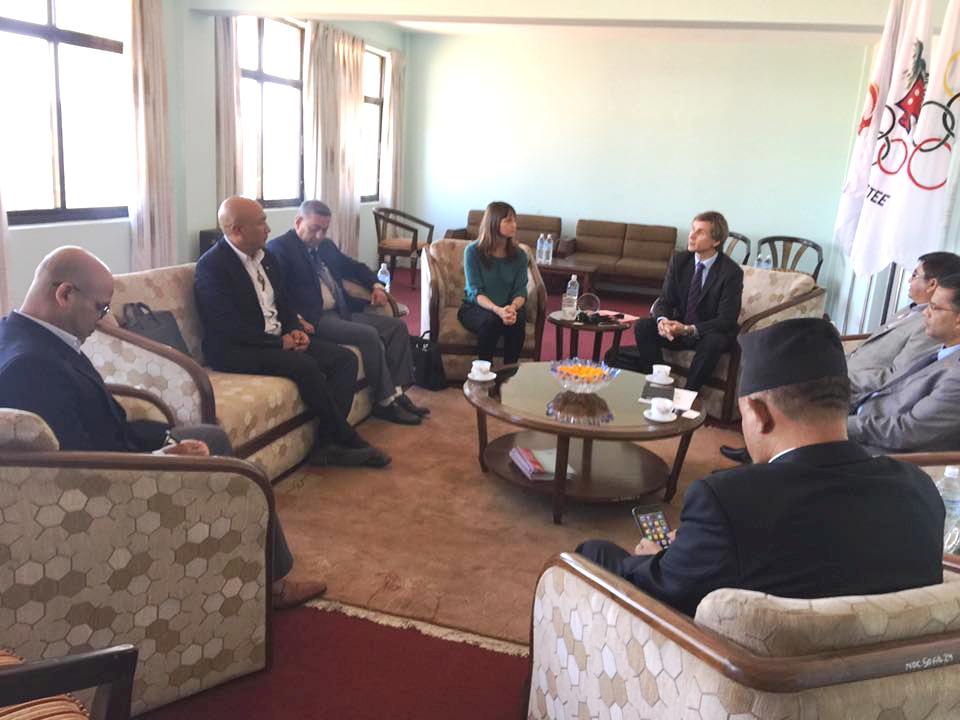 In the second day the delegates met with representative of different Olympic Commissions like Mr. Bisnu Gopal Shrestha President of Sports for All commission and Ms. Jyoti Rana President of Women's Commission. They also met with Mr. Dhurba Bahadur Pradhan President of National Olympic Academy/ Honorable President of NOC and his team. Finally, the delegates met with all the board members. In the meeting Mr. Edward Kensington said that their main motive for the visit was to better understand the situation of Nepal Olympic Committee and also to supervise the utilization Solidarity support fund and its benefits. He also briefly informed the process of Olympic Solidarity to the Board. He added that IOC solidarity department visits 2 NOC countries every year. This year in Asia they choose South Korean Olympic Committee and Nepal Olympic Committee.