29 November, 2020
Nepal Olympic Committee organized the third National Sports Forum on Sunday. In the forum there were presentations from national and international sports experts focusing on sports, athletes, associations and the responsibilities and duties of the region. Discussions on different topics presented by the experts were also done.
These programs are held to inform the sports sector, the association and its officials about the Olympic campaign and Olympic values ​​and activities. Sri Lankan Olympic Committee Secretary General Maxwell de Silva and Asian Olympic Committee (OCA) Representative Professor BLH Pereras made presentations on 'Olympic Values ​​and Recognition'. On the occasion, Pereira said that it was necessary to run a program at the school level to bring awareness about the Olympic values. Speaking on the occasion, International Olympic Committee (IOC) member Swang Min Ryu said that the issue of environment was the most important issue at the moment and added that the sports sector should play the biggest role in creating awareness about it. He says the environment is now an equally important issue for world sports. Chairman of Medical Commission of NOC Dr. Saroj Krishna Shrestha gave a presentation on 'Covid-19', Chairperson of Nepal Sports Journalists Forum Durga Subedi gave a presentation on 'Media Sector and Marketing' and Secretary at the Ministry of Youth and Sports Ram Prasad Thapaliya, gave a presentation on 'Sports Structure and Methodology'. Similarly, Rishi Ram Pokhrel, Chief of Finance Department of the National Sports Council, spoke on 'Accounting System of the National Sports Council', Umesh Dhakal on 'Tax System' and Senior Advocate Lok Bhakta Rana on 'Sports Act 2077'.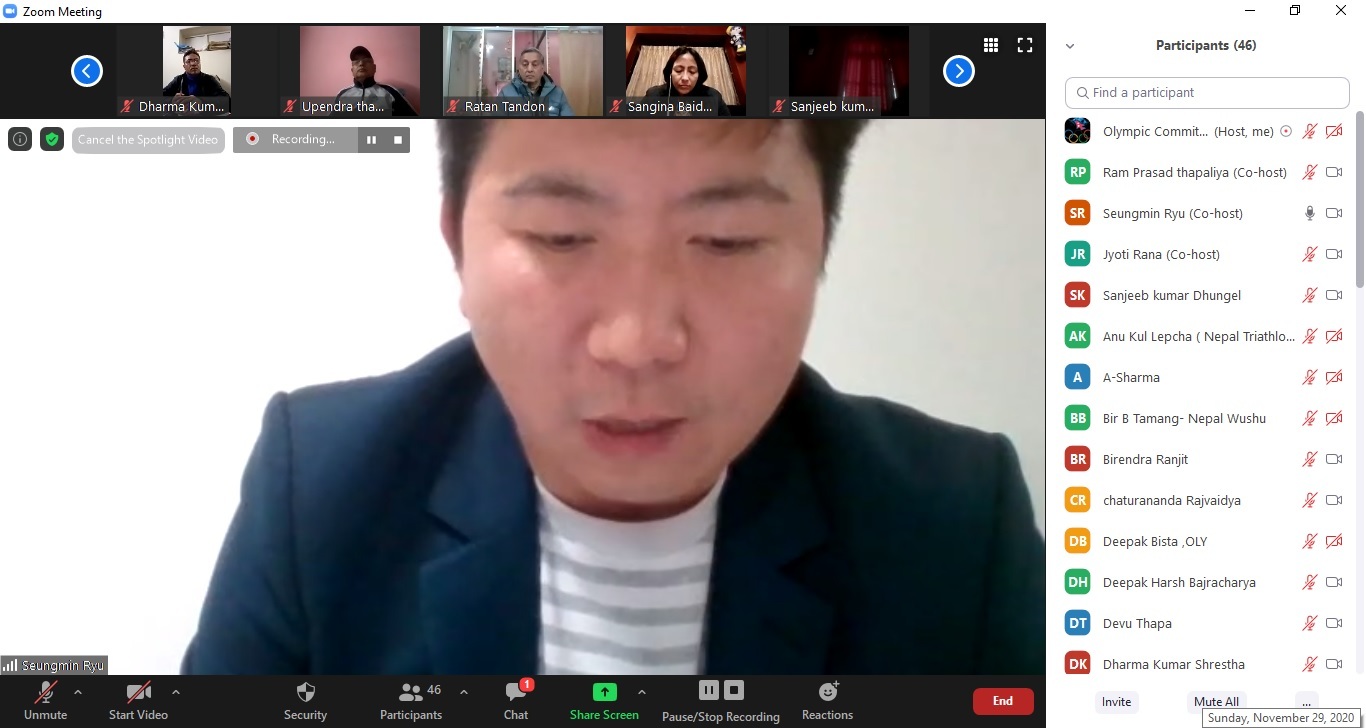 At the beginning of the program, Nepal Olympic Committee President Jeevan Ram Shrestha gave a welcome address. The chief guest of the program was Minister for Civil, Aviation and Culture Honorable Yogesh Bhattarai. Member Secretary of the National Sports Council Mr. Ramesh Silval said that such a program is necessary for Nepali sports. At the end of the program, General Secretary of the Committee Mr. Nilendra Raj Shrestha said that the participants were able to get enough information from it. He also informed about the upcoming international sports competition. The program was conducted by Vice President and Executive Director of NOC Mr. Chaturananda Rajvaidya.
At the event, letters of appreciation were also announced to Presidents of associations that won gold medals for Nepal in the 13th South Asian Games and all the associations for participation.