March 5, Saturday
Nepal Climbing Sports Association, in coordination with Mountain Sports Federation (MSF), on Saturday organized Media Cup climbing tournament in memory of late sports journalist Suman Bhomjan, who died in last years devastating earthquake.
During the occasion, Nepal Automobiles Sports Association under the MSF provided cash relief to family members of two National Sports Council (NSC) employees who were also the victims of the devastating magnitude 7.8 earthquake that claimed the lives of more than 9,000 people across the country.
NSC staff Bal Mukunda Napit had lost his wife to the earthquake while another NSC staffer Pradeep Man Shahi perished in the quake. Their families received Rs 25,000 each as relief.
Meanwhile, Rishiram Khatiwada of Nirman News lifted the title of the Suman Bhomjan Memorial Climbing Media Cup which was organized under the
Fourth Mountain Sports Festival, which kicked off on Saturday.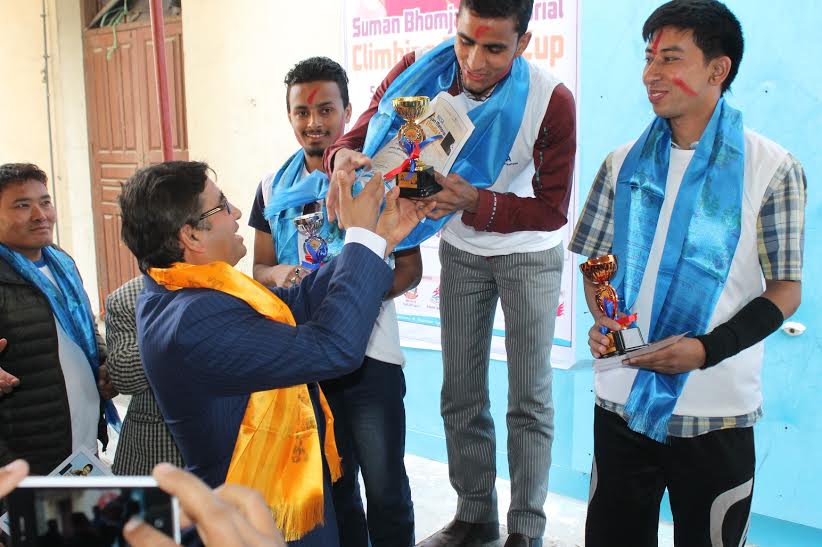 Rishiram finished
ahead of 30 participants who represented various media houses of the country.
He received Rs 3,000 as well as trophy and certificate.
Likewise, Anil Malla Thakuri of Sourya Daily finished second while Neeraj Chandra Roy of Republica secured the third position. The second and third position holders were awarded Rs 2,000 and Rs 1,000 respectively, besides trophies and certificates.
Nepal Olympic Committee President Jeevan Ram Shrestha distributed the awards to the winners.