Kathmanu-29
th
November 2015
In order to promote Nepali Sports on Sunday NOC/Nepal organized the MOU Signing Ceremony between Nepal Olympic Committee and Non-Residential Nepali Association (NRNA) at Olympic premises in the presence of NOC EB Members, and Sport journalist.
On behalf of Nepal Olympic Committee President Jeevan Ram Shrestha and on behalf of NRNA President Shesh Ghale has signed.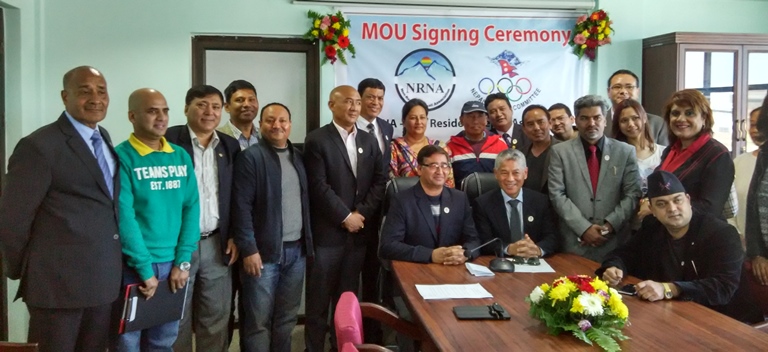 MEMORANDUM OF UNDERSTANDING
Between
Nepal Olympic Committee (NOC, Nepal)
And
Non Resident Nepali Association (NRNA)
Context:
THIS MEMORANDUM OF UNDERSTANDING
(hereinafter referred to as MOU) is by and between NEPAL OLYMPIC COMMITTEE, Lalitpur, Nepal established in the year 1962 to extend the Olympic Movement in Nepal that is duly recognized by the International Olympic Committee (IOC) & Olympic Council of Asia (OCA) (hereinafter referred to as "NOC Nepal") and Non Resident Nepali Association, nongovernmental global organization and network of Nepali origined by establishing National Coordination Council (hereinafter referred to as "NRNA"). This MOU is effective on the date of the last signature by the authorized officials of the two parties.
Objective:
The objective of this MOU is to express the willingness of both parties to extend the Olympic Movement and its Olympic Values (Excellence, Respect and Friendship) in Nepal through promoting and developing the sports in Nepal.
Specific activities under this MOU will be identified through consultation between two parties.
NOC Nepal
will coordinate to organize the sports activities in Nepal on the auspicious occasion of NRN Day on 10 October of every year. NOC Nepal will mention NRNA as an official partner of Olympic Movement of Nepal in each of every activity of the Olympic. The President of NRN will be honored by the honorary Member of Nepal Olympic Committee. NOC Nepal will assure for the participation of NRN athletes (holding Nepalese passport) in the selection of the International Games. In any sports activities organized by the NRNA within the country, NOC Nepal will technically support to conduct the activities successfully.
NRNA
agrees to work with and coordinate with NOC Nepal for the development of sports in Nepal and strengthen the Olympic Movement. In order to develop & promote the Nepalese sports they agree to support in following acts:
Logistics support for the potential athletes during the aboard training & International Championships.
Scholarship for the selected athletes that will take part in the Asian Games and Olympic Games.
Coordination with Multi National companies in order to build the sports infrastructures in the country.
Sponsoring the sports kits to whole delegates of the Asian Games and South Asian Games.
Identifying the High performance training center for the elite athletes at their respective countries.
Coordinating Exchange program between Nepalese sports team & various countries.